Senior Leadership Team

Aaron Koelsch
President & CEO
Aaron Koelsch is the Chief Executive Officer and Founder of Koelsch Communities. With over 30 years of senior living experience, Mr. Koelsch was inspired to build a company whose common purpose is to create happiness in the lives of its residents and their families by providing an unmatched living experience.
Dennis Christianson
Chief Financial Officer
Since 2010, Dennis has provided oversight of all Koelsch financial records and resources and monitored financial management throughout Koelsch Communities.
Dennis goes above and beyond the world of black and white to find strategic avenues and has been integral to Koelsch Communities expansion into new markets across America.
Cyndie Bryant, RN
Executive Vice President
Cyndie's rich, 20-year history with Koelsch Communities has given her the expertise to oversee all aspects of Koelsch Communities, including operations, human resources, and marketing. Today, Cyndie maintains an emphasis on quality improvement, resident satisfaction, and employee training, all focused on creating and maintaining the safest, happiest, and most beautiful senior living communities.
Eva Arant
Chief Operating Officer
Eva joined Koelsch Communities in 2008, bringing a natural drive for team building and a commitment to providing Koelsch Communities with operational leadership and business acuity. By utilizing her experience, industry insights, and relationship-building skills, Eva leads Koelsch Communities with purpose and unity.
Terry Hanson
Vice President of Business Development
As the VP of Business Development for Koelsch Communities, Terry Hanson handles a range of duties such as construction, bridge, and agency financing debt placement. Terry also plays a major role in raising equity for new ground-up development opportunities and looks for acquisitions of existing senior housing communities that are in line with the Koelsch footprint and strategy.
Spencer Wagner
Director of Sales
Benjamin Surmi
Director of Education and Culture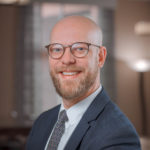 Chase Salyers
Director of Marketing and Operational Support
Joel August
Director of Culinary Services
Jerame Johnson
Director or Human Resources