Senior Leadership Team

Aaron Koelsch
President & CEO
Aaron Koelsch is the Chief Executive Officer and Founder of Koelsch Communities. With over 30 years of senior living experience, Mr. Koelsch was inspired to build a company whose common purpose is to create happiness in the lives of its residents and their families by providing an unmatched living experience.
Eva Arant
Chief Operating Officer
Eva joined Koelsch Communities in 2008, bringing a natural drive for team building and a commitment to providing Koelsch Communities with operational leadership and business acuity. By utilizing her experience, industry insights, and relationship-building skills, Eva leads Koelsch Communities with purpose and unity.
Michelle Baker
Vice President of Operations
Spencer Wagner
Director of Sales
Benjamin Surmi
Director of Education and Culture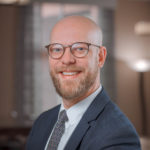 Chase Salyers
Director of Marketing and Operational Support
Joel August
Director of Culinary Services
Colin Bossio
Chief Financial Officer
Flora Allen
Treasury Manager
Brent Salyers
Director of Asset Management